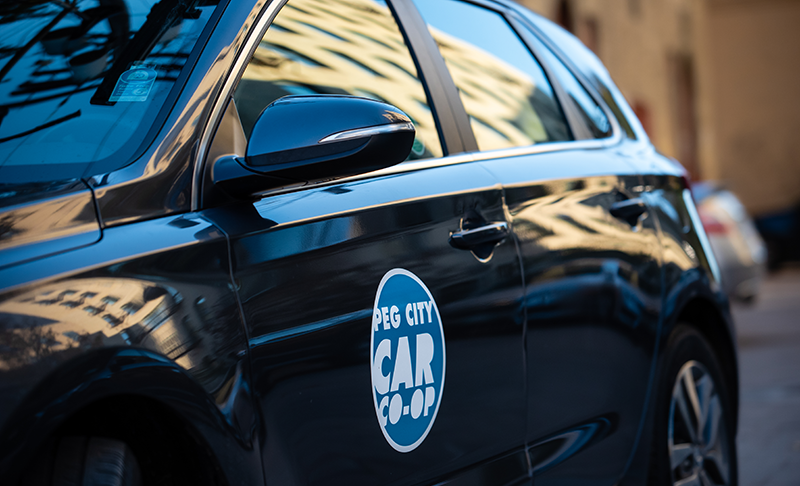 It was one a year ago this month in April that Thorwin Properties (thorwin.ca) teamed up with Peg City Car Co-op (pegcitycarcoop.ca). Designating one of its first parking stalls at 190 Smith Street (190smithstreetapartments.ca) and another near our downtown Winnipeg apartments at 250 Broadway Avenue (250broadwayavenueapartments.ca).
This community partnership program not only helps reduce our carbon footprint but benefits Thorwin's residents, allowing them to use a car when they need one. A social and environmental choice that supports community transit and environmental goals. It truly gives our residents the benefits of driving without the hassle and cost of ownership. As of April 4, 2022, we are excited to announce that we have added another Peg City Car Co-op for our residents at 812 Wolseley Avenue (812wolseleyavenueapartments.ca) and 826 Wolseley Avenue.
Peg City Car Co-op started back in July 2007, a group of five forward-thinking volunteers who discussed the idea of establishing a carshare program in Winnipeg. Officially, they launched their first three vehicles on June 24, 2011. Peg City Car Co-op has grown to more than 70 vehicles and 2,500-plus members.
Carsharing is a trend and a solution that is truly convenient. Members of this innovative car rental concept don't have to worry about car payments, insurance, and the other maintenance cost that come with owning a vehicle. We are ver excited to team up with Peg City Car Co-op. We are not only trying to reduce traffic congestion but our carbon footprint as well. Fewer cars, emissions, pollution = supporting a cleaner sustainable future.
My wife is a member. I had mentioned our community partnership with Peg City Car Co-op and she enrolled within the week. She loves the simple and easy payment options, the ability to log into her account, choose a car from a specific location on their map and the options of renting a car, truck, van, hybrid and electric vehicles is enticing.
If you would like to know more about Peg City Car Co-op, please visit their frequently asked question (FAQ) page at pegcitycarcoop.ca/faqs/faqs