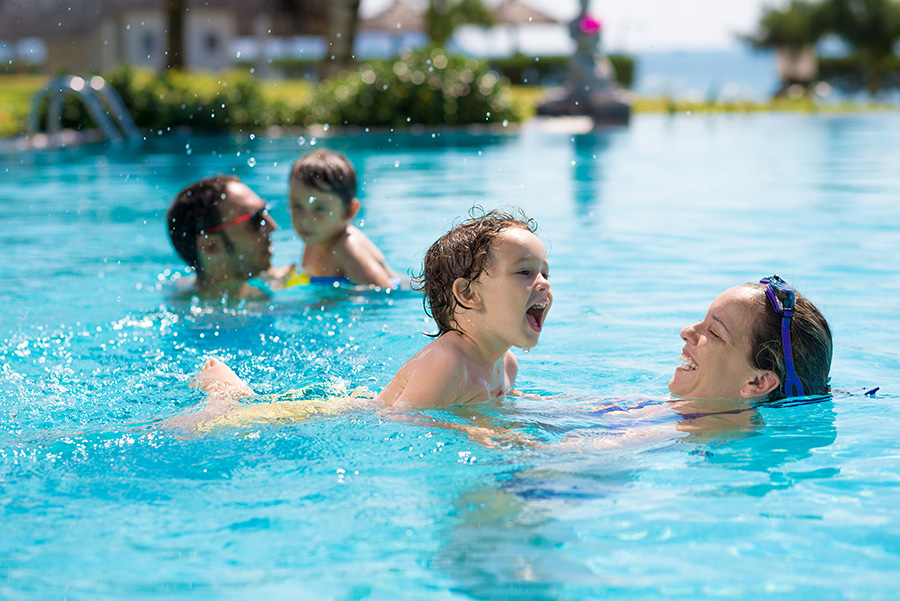 The summer season is officially open! With a heat wave always comes a desire to cool down in the water. It's a great way to regulate your body temperature, have fun with your friends, and create new summer memories. Our team wants your summer to be happy and safe, and we have some safety tips for you and your family.

Supervision is important
We recommend people of all ages swim in areas with a lifeguard. If there is no lifeguard, please take turns supervising your kids. Stay within arm-reach distance with your child in the water and within 5 meters if they play nearby.
Drinking alcohol is not recommended
Drinking alcohol will dehydrate you as it is a diuretic that causes your body to remove fluids from your system much quicker than other liquids. It will also make your heat exhaustion worse, making your mind foggy, and slowing your reaction time. Make sure you hydrate yourself with water instead and stay focused.
Follow the water safety rules
Yes, you can have fun and relax while still following the water safety rules. For example, if the water reaches your knees, you call an adult to supervise. Water safety rules are designed to help prevent drowning, heat stroke, and any other dangerous situations you may come across in the water.
No devices have feelings
Floaties and floatation devices are good to have, but they can not prevent drowning. Kids can easily fall back into the water and drown. A life jacket is still the best way to prevent drowning. Popular Mechanics came out with an article on June 15, 2022, with the eleven best kid's life jackets for the summer. You can see the full article by visiting https://www.popularmechanics.com/home/g36869177/best-kids-life-jackets

Swimming lessons are an important life skill
Learning how to swim is very important. It can save your child's life. Drowning is still one of the most common causes of accidental death in children, being able to swim is an essential life-saving skill that everyone should know. Looking for swimming lessons for your kids? Aquia Essence is a great swim academy, they focus on helping students of all ages – from infants to seniors. For more information, please visit https://aquaessence.ca
Outdoor pool – how to stay safe
If you have a private pool in the backyard and your kids like to play there, make sure you have a lockable gate around the perimeter. Place a bell on your door to hear when someone enters. Make sure there is always adult supervision.
Rules are for our safety
Not every bodies of water are safe for us to swim. Some lakes can have bacteria or inhabit some dangerous fish species. If you are at the beach – you can see areas for swimming and restricted zones. It's also important to listen to your body and know your limits, making sure you don't over-exert yourself which may cause your muscles to cramp, and lose the ability to swim.
CPR kills are a must
Having knowledge of CPR will help may save a life. If someone suddenly goes into cardiac arrest, administering CPR will help prevent brain damage and buy you time until paramedics come. It's another life skill worth learning. First Aid Training Centre offers this course. For more information, please visit https://www.firstaidtrainingcentre.ca
Cool water temperatures
Cold water will lower your body temperature and may cause you to also lose your body heat and go into hypothermia. It's a condition where your body temperature is below 95 degrees and will cause your heart, nervous system, and other organs to shut down. Use your best judgment, if you're going to test the water temperature – just go ankle-deep to gauge how cold the water is first.
Colour flags for water conditions
Take time to learn the beach flags and teach your child. Lifeguards utilize coloured flags to describe the water conditions. Green flags indicate low hazard conditions good for all swimmers. Yellow flags indicate moderate hazards are present like rough water, and/or strong winds. Red flags indicate hazardous conditions like dangerous waves and currents.
Water currents
You can assume that water flows are fun to enjoy but can also be very dangerous. Even a small current can take you far away from a safe swimming area and can be difficult to swim back. Learn how to survive a rip tide by visiting https://www.wikihow.com/Survive-a-Rip-Tide
Follow our Community Board for more helpful tips and updates.
Your Thorwin Properties Team