Victoria Day is a Canadian statutory holiday celebrated in every province and territory. It honors Queen Victoria's Birthday and is a reminiscence of Canada's sovereignty. Today, this holiday is known as the May long weekend and is officially the beginning of the summer season in Canada!
Events are coming back and parks are starting to open up, giving families many options on how they'll spend their long weekends. Below is a list of some events we think will make your weekend unforgettable!
St Norbert's Farmers Market

Every Saturday from 10:00 a.m. to 2:00 p.m., the St. Norbert's Farmers Market opens its doors to locals, allowing the opportunity to shop from several local farmers, creatives, and innovative people from the community.
Just off of Pembina Highway, the market hosts over 130 vendors from Manitoba who sell drinks, fresh produce, fresh baking, jams, fermented veggies, meat including bison, chicken, and fish, and handmade items like clothing, artwork, and jewelry. Some vendors move outside to join the food trucks selling delicious beverages and meals during the spring and summer. The Market makes for a fun outing while supporting sustainable farming in our community. You can also shop online if you can't find the time to go! Visit https://www.localline.ca/le-marche-st-norbert-farmers-market-coop open 24/7.
Winnipeg United for Ukraine

This fundraiser will host numerous local Winnipeg Bands all-day on May 21st from 1:00 p.m. to 1:00 a.m. All Donations and proceeds raised from the event will go to the Canada Ukraine Foundation for the Ukraine Humanitarian Appeal. Held at the Club St. Boniface on 171 Dumoulin Street, events like a 50/50 Draw will also occur, accompanied by available beverages and food. If you are interested in supporting, visit https://www.eventbrite.com/e/winnipeg-united-for-ukraine-tickets-327678203327.
Wonder Shows at Assiniboine Downs

After a long hiatus because of the pandemic. The midway that sparkles excitement is back from May 13 – June 5, 2022, at the Assiniboine Downs for five weekends! It will feature over 25 rides that will definitely be family fun! This May long weekend they will bring back an old St.James / Assiniboia past-time tradition of Manitoba's Best Buffalo Burgers. There is plenty of parking available, and the gate fee of $25 (including tax) gives you unlimited access to the entire midway of rides! Children under 30″ height are not permitted to ride and can attend for free with an accompanying adult. There will be on-site ATMs and debit/credit available at our ticket booths. They will be open from 11:00 a.m. – to 11:00 p.m. Come bring the family down and the delicious food like Buffalo Burgers (May 20-23rd), Hot Dogs, Hamburgers, Cheese Burgers, Panzerotti's & Corn Dogs, Cotton Candy, Mini Donuts, Candy Apples, Slushies & Lemonade, and so much more! Visit the website for more information at https://www.wondershows.com/calendar/.
Ultimate Dinosaurs

The museum is always fun to visit on the weekends, especially for families. For the long weekend, The Manitoba Museum will be hosting the Ultimate Dinosaurs Exhibit featuring giant full-scale Dinosaur skeletons from the Southern Hemisphere. The exhibit also combines these extinct creatures with interactive stations plus an augmented reality station, transforming the bones into living beings! With the hands-on learning experience, kids and families will be able to learn lots about these prehistoric animals and how they were able to adapt to the changing earth. To buy your tickets and to learn more, visit https://manitobamuseum.ca/programs-and-events/ultimate-dinosaurs.
Golfing

All the snow Winnipeg has had over its harsh winter has made our golf courses lush green! As of May 6th, Golf courses all over the city and province have opened up for the season, allowing regular golfers to enjoy their favorite sport on beautiful fairways. The most popular and recommended in Winnipeg are:
Kildonan Park: This is one of the oldest golf courses situated on the banks of the Red River. Full of lush vegetation, the 200-yard course is quite challenging. Amenities include a driving net, pro shop, cart rentals, locker rentals, snack shack, and more! Visit their website for more information on prices and scheduling https://winnipeg.ca/golf/kildonan.stm.

Windsor Park: Near St. Boniface and St. Vital, the Red River crosses and runs on 8 of their 18 holes. All golfers of any level will enjoy the scenic course and its memorable experience. Amenities include equipment rentals, cart rentals, a driving net, and more! Visit https://winnipeg.ca/golf/windsor.stm to learn more.

Crescent Drive: This 9-hole course offers a challenge to players of all levels. Despite its difficulty, the entire golf course is well kept and is a favorite among many. Amenities include equipment rentals, cart rentals, and a pro shop. Visit their website for more at https://winnipeg.ca/golf/crescent.stm.
Of course, not everyone likes the long yards and swinging the club. Winnipeg also offers beginners and families the choice of mini-golf! Check out U-puttz and the Golf Dome for their fun mini-courses!
Camping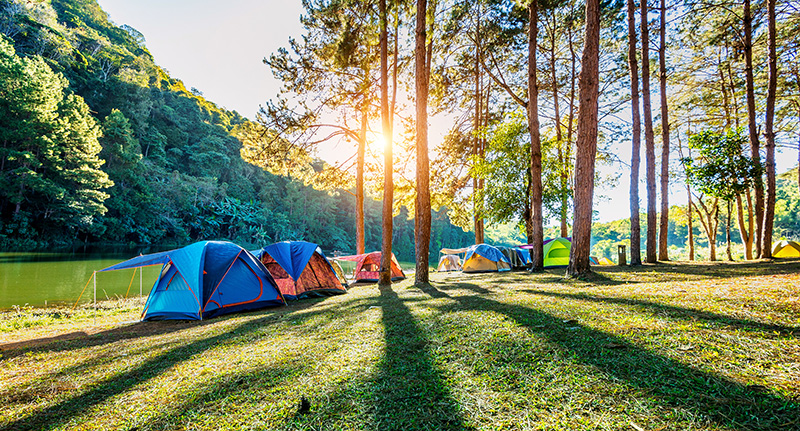 Give yourself and your family a break and unplug for the long weekend by camping! Many provincial parks around Winnipeg are opening up their campgrounds this spring. Birds Hill Provincial Park will always be a favourite for city dwellers because of its location and artificial beaches. However, campgrounds can get booked, so it's best to reserve a spot early! In addition to camping, these parks also offer many fun outdoor family activities like hiking, outdoor biking, canoeing, and much more! For online reservations, go to https://prsweb.gov.mb.ca or call 204-948-3333 (in Winnipeg) or 1-888-482-2267 toll-free. Click here for park facilities and services.
Goldeye's Baseball Game

One of the best things about A Goldeye's game is that you don't have to be a fan to go! Located at Shaw Park near the Canadian Museum of Human Rights, these ball games have an extremely family-friendly atmosphere with many amenities available. There is plenty to keep the kids occupied. A playground and other activities held during the innings (breaks) of the game are just a few. The staff, mascots, and announcers always try to engage the audience by interacting with the crowd, hosting contests, giveaways, and more entertainment!
Shaw Park also has a sufficient number of options for food, which is another reason for people to go. Mostly Manitoban comfort food, their choices include fluffy pretzels, craft beer, mini perogies, authentic BBQ, freshly squeezed lemonade, and more! Depending on the day or week, Shaw Park displays fireworks at the end of the game. The Goldeyes Team's next game is May 19th, so be sure to buy your tickets – click here.
Foodtrip Festival

On May 20th from 4:00 p.m. to 9:00 p.m. and May 21st and 22nd from 12:00 a.m. to 9:00 p.m. celebrate Winnipeg's diversity through food at the Billy Mosienko Arena at 709 Keewatin Street. With around 30 diverse food trucks consisting of Asian, American, and middle eastern cuisine, this is a family-friendly event for those hungry for more! With bouncy castles for the kids and even pet-friendly events, including a Pet & Owner Fashion Show and other pet resources, it truly is a fun little festival for Winnipeg Residents during their long weekend. To learn more, visit Foodtrip Market's social media page at https://www.facebook.com/foodtripwpg/.
Manito Ahbee Festival

This festival celebrates Indigenous Arts, culture, and music from Winnipeg! The festival features events such as an International Pow Wow, Indigenous Music Awards, and a one-stop shop Market! Vendors for the Market Place will be hosted at the Red River Exhibition Park and will be selling beads, jingles, regalia supplies, clothing, jewelry, blankets, books, food, music, and art this May long weekend. Unable to attend the Market, no worries! They also offer a virtual Market place that brings the festival to you at home or anywhere. So, you can still support Indigenous businesses. For more information on the multiple events and the Market, visit https://www.manitoahbee.com/.
Paint Nite

Unleash your hidden inner creativity with your family at Paint Nite on May 22nd at The Hanger on 121 Scurfield Blvd. Guided by talented artists, you and your family will be led through a step-by-step process to create beautiful masterpieces. Mixed with some fun entertainment on the side, Paint Nite creates a memorable experience for everyone! To learn more and to purchase your tickets, visit https://www.eventbrite.com/e/family-paint-party-tickets-326603368467.
We hope this list has helped you and your family plan for a fantastic long weekend this year! Our list only featured a couple of activities but be sure to explore more of the city to find other hidden events!
Take care, and we hope you have a wonderful and safe long weekend!
Follow our Community Board for more helpful tips and updates.
Your Thorwin Properties Team