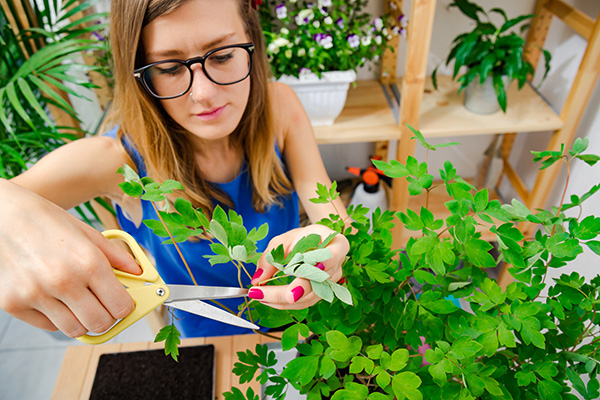 With rising food costs, I will provide you with gardening tips for big and small indoor spaces. First, I want you to answer the question: "Is it worth it?". There are three main factors to help you: it saves your money, provides you with fresh greens & vegetables with no chemicals, and becomes a new hobby to relieve your stress.
Now that we decided to create a garden – where to start?
Let's choose a plant you want to grow. First, most fruiting plants need at least 6 hours of sunshine. If you can't provide that – choose greens and herbs or add some grow light to your garden.
Plants need oxygen, nutrients, and soil for water. Potting mix circulates oxygen & water and helps to keep your plant healthy. You can also place a humidifier next to the garden, as a fine mist helps plants to grow.
Remember the weight. If you created a garden station, make sure that your shelves will handle containers, as the water doubles the weight.
What to garden?
Herbs: mint, parsley, basil, and much more. A little tip: be ready to replace your herbs if you harvest often.
Greens: spinach and lettuce are fast-growing. Remember to water them a lot!
Veggies: tomatoes and chili peppers grow well in pots. The larger pot you have – the bigger plant is and requires plenty of sunlight.
Trees: lemon tree. Note: you need to put some protection under the pot, as it likes to leave a sticky sap.
Fruits: say yes to strawberries! Additional light and moisture are needed.
There are 4 basics of garden care at home:
Water. Poke your soil an inch or two below the surface to see if it's dry. It needs to be moist. Remember: each plant needs a different amount of water. You can google it or check on the seeds package.

Food. Yes, plants need feeding. The easiest method is to add a special fertilizer with water. All the mixes should be scheduled according to the individual growing requirements of each plant.

Cure. Plants can get a disease. Inspect them on a regular basis for pests or discolouring. If you notice something – take the plant away from healthy ones and try to cure it with sunlight, water, or a special mix.

Harvest. Know the time – check when it's the best time for your plants to be harvested. Sometimes, it promotes producing even more food for you.
Frequently Asked Questions:
Is it expensive to have a home garden?
No. You can buy pots and soil in your closest dollar store.
Is it time-consuming?
No. All you need to do is water your plants and check them occasionally or you can buy plant watering globes at Wal-Mart, Canadian Tire, or Home Depot.
Is it allowed in a rental home?
If you keep your apartment clean – yes, but I would still recommend checking with your landlord before you start.
Follow our Community Board for more helpful tips and updates!
Your Thorwin Properties Team